Reading Time:
5
minutes
The Young Traveler's Network series showcases candid guest interviews of young people worldwide and the inspiring stories of how they navigate their lives and travels. They share their stories to educate, inspire, and empower others to see the world!
This week a Young Traveler named Gabbi, 25, shares her tips on how to make the most of a new cultural experience.
---
If you had told me back in January that I would be spending most of the year in the UK, I would have laughed in your face.
This was meant to be a year filled with travel and adventure—I was ready and waiting with a career that would enable me to travel the world. Obviously, that hasn't been the case. I needed to find another way to keep my wanderlust and my spirits high while in lockdown. Thus, I decided to try teaching English online and the experience has been amazing!
Coming To Terms With Lockdown
Having to let go of the idea of living in Indonesia and traveling across the world this summer, I decided to dive headfirst into the world of online teaching.
Teaching was something I had only started doing part-time in January. A great way to supplement my income and help save for my summer. Also allowing me the freedom to work wherever and whenever I wanted to. Though it was online, it was never meant to become my main priority. However, when the earth tells you to stop traveling, you have to listen.
It might sound strange for someone who thrives on new experiences to say they found having a routine in lockdown so helpful, but I did. Click To Tweet
Every day I wake up and teach online from 8 am to 2 pm. I teach children in China to speak English and I work as a TEFL (Teaching English as a Foreign Language) teacher through an app. This means I can show up and teach whenever I want. The children I teach are all Chinese, but a lot of them actually left China due to the coronavirus.
I'm beginning to see that for many reasons, maybe the lockdown was a blessing in disguise.
[one_half]
[/one_half] [one_half_last]
[/one_half_last]
An Unexpected Lesson
Though I teach English day in and day out, I'm surprised how often the kids give me lessons in return.
They give me a glimpse of life as a Chinese child at the center of a worldwide pandemic. It's heartbreaking to hear the children talk about how they haven't been outside or seen some of their family. However, my students' strength is also inspiring in so many ways!
I teach children aged 3 and upwards. The 12-year-old I teach almost daily tells me how her family has plans to move to England in August.
My 6-year-old student I see every other day is actually living in Hungary at the moment and loves it there. Yet my student wants to get back to Wuhan in time for her birthday in September.
There are so many parents who sit in on their children's lessons and chat with me at the end of the class. They share their stories and how their children have come up with new games such as indoor camping and other fun ideas that have turned their homes upside down.
Hearing their stories and getting to talk to the children every day is something that I cannot take for granted. It forces me to accept my privilege that I am allowed to go for a walk every day, I can go outside and in the future, I will travel again.
Preparing For A Different Future
Travel is something that a lot of people do whether it be for the new experiences, meeting new people, or experiencing a sense of awe in discovering something completely different from your everyday life.
Personally, I love to meet new people; especially the local people. Learning about their way of life and how they work, what they love about their country, and how they view their world. I would happily sit and chat with people from all over the world, which is why right now, teaching English online is something that has helped keep my wanderlust alive.
I am lucky that I can fulfill my sense of adventure by speaking to people all over the world by teaching them English.
Though I can't physically travel right now, I got to travel to Thailand on the last holiday my 5-year-old student took as he tried to find the English word for armbands. Or to Hungary building Legos with my 6-year-old student who likes… Click To Tweet
Maybe someday I'll get to go to China and see some of the amazing things I've heard so much about for myself.
Everyone is going through a different experience in this global pandemic, we are all having to change plans and hold off on being able to do the things we love.
This acts as a good reminder for me when I wake up after dreaming of being on a beach, or when I sit down in front of my phone and get ready to teach, that the children I'm about to speak to have been through this a lot longer, in a much harsher version than anywhere in the world.
I actively have something to look forward to every day. I have so many children to teach, and when they do eventually go back to school, I will miss speaking to them every day as their schedules adjust. Of course, going back to school will be amazing for them as it means their homes will finally be on their way to recovering from this virus!
In a few years when we look back at this time, hopefully, things will be back to normal with international travel open all around the world.
Continuing With Teaching English Online
Having worked in the travel industry for the past few years, I have learned it's always the people who can make or break a trip. For example, the locals who help you when you need directions or the people who extend a smile as you go about your day. Becoming a teacher has meant that I still get to experience those things, just in a new digital format.
By all means, not every class is all rainbows and sunshine, I do get a good tantrum every Sunday from some children who do not want to practice their English at all, but I wouldn't trade them. It means that I am able to experience something new in each lesson. I enjoy learning about new cultures, all from inside the makeshift classroom that I set up in my spare room in England.
If you're thinking about teaching English online whilst you're at home, there are many ways to start and a lot of companies are hiring right now. It has been something that has changed the way I see this period of no travel and something that has really helped keep my wanderlust alive from the comfort of my own home.
Gabbi's Blog | Gabbi's Twitter | Gabbi's Instagram
---
How have you kept busy during the lockdown? Drop a comment below & don't forget to add yourself to the Young Travelers Network Facebook Group!
Are you interested in writing for Packs Light? Apply to become a contributor.
[one_half]
[/one_half][one_half_last]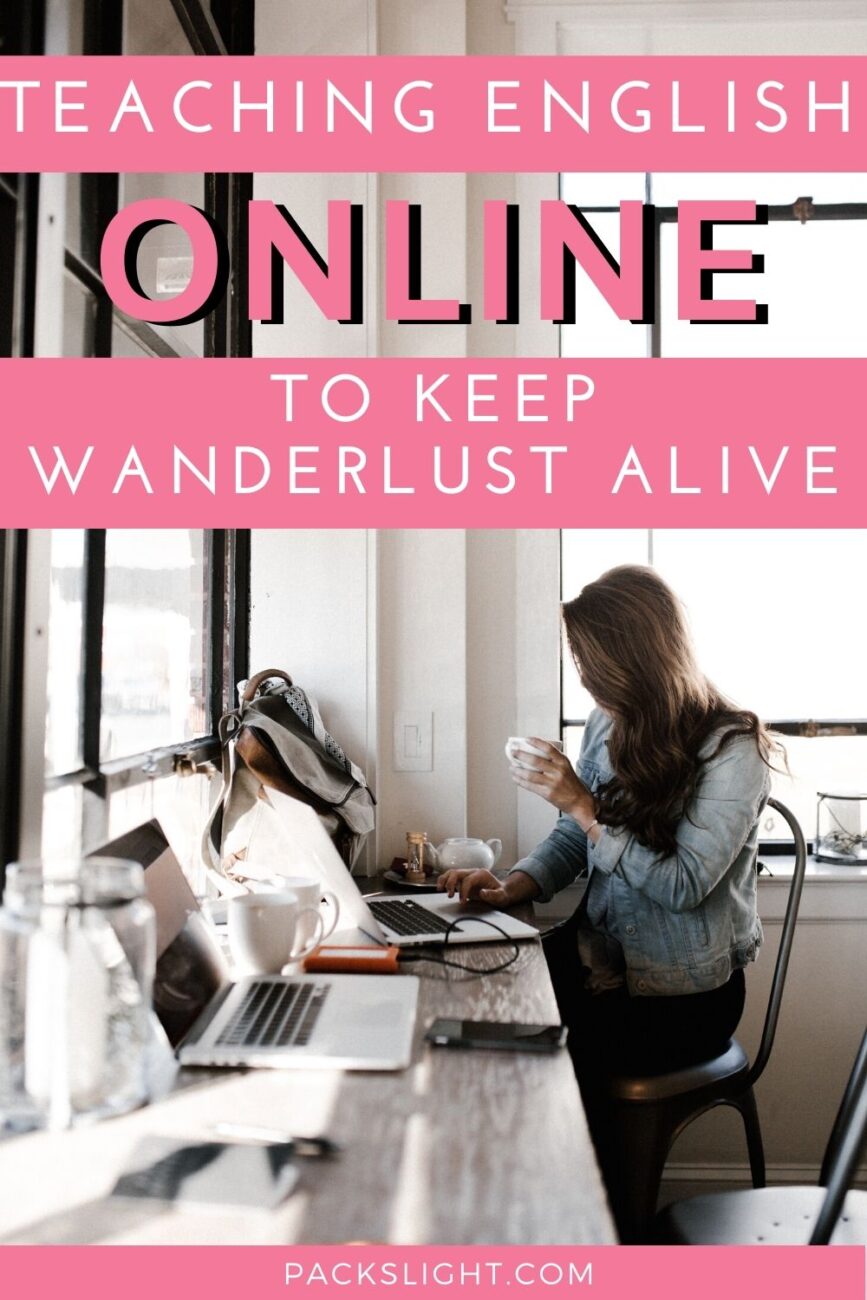 [/one_half_last]