Reading Time:
3
minutes
I've lived in the DMV for the past 8 years, but only recently moved to Washington D.C. And I love it! Having visited more than 29 countries and countless cities, D.C. is still one of my favorites—and here are my top 5 reasons why.
1. The interesting (often free!) weekly events.
You will never be at a loss for things to do in this city. Every week there are more public events than there are ducks in the Potomac (okay, that's a made-up stat but it could be true).
Between the weekly Embassy events, 85+ museums, free salsa nights, international restaurants, events on The Hill, cultural festivals, music festivals… the list goes on, and on.
Check out MeetUp.com, Hill Happenings, D.C. Events to stay in the loop.
Looking for things to do? Check out my Washington D.C. guide with 74+ things to do, see, and eat in the city.
2. All of the options to leave.
Kidding… sort of!
Being in Washington D.C. gives one easy access to not two but three international airports: Reagan National Airport (DCA), Dulles International Airport (IAD), and Baltimore International Airport (BWI).
I'm spoiled with airline options and flight schedules galore, both domestic and international!
Being a travel blogger I fly out of all three pretty often and I will say I think Reagan has the best variety of food, BWI has the cheapest flights to the West Coast, and Dulles—being United Airline's hub—has the most flight options. In fact, the city is so accessible I recently drove to BWI with a packed bag and no plans, and once I arrived I booked the cheapest flight to anywhere that day. Ended up in the U.S. Virgin Islands for 4 days!
Having I-95 run through the city is a huge bonus. Buses run through D.C. from Miami to Toronto. This city is uber accessible.
3. I always know what's going on in world news— for better or worse.
Mostly worse. But it does feel like a privilege to be the first to know of a new law or international event.
It took me traveling around more of the U.S. to realize that my level of involvement with politics every day was not the norm. When in New York I had people tell me "Yeah, it's crazy down in Trump-Town right now", or San Diego where people told me to stop talking politics when I mentioned seeing a Trump Towers in Dubai.
Politics stress, depress, and incense me like most other Americans in 2019, but it does feel like living in Washington D.C. gives me a community of people who truly care what is going on in our world and stay up to date on most world events.
4. Whatever scene you're looking for, we have it.
Considering VIP events, home cookouts, rooftop pool party, underground Go-Go party… they have every type of social event for every type of person.
For example: I recently attended the Citi Taste of Tennis D.C. event. What's that? An annual event where world-famous tennis players such as Sloane Stephens, Naomi Osaka, and John Isner attend and taste local D.C. restaurants.

So I hung around sports celebrities and ate world-class food. Casually. On a Thursday. I love D.C.
The diversity in this city in terms of nationalities, food scene, part scene… It can contend with the best of them!
5. It's the perfect combination of city and nature.
See the pic! It's a pretty perfect representation of the city in my opinion. There is a plethora of parks, fields, and trees that people can enjoy. Also, the city is very clean. You'd be hard-pressed not to find a trash can and recycling bin on every street corner. Because of the traffic many people cycle, metro, walk, or scooter to work so Green transportation options are aplenty. 
And unlike Manhattan, your dog doesn't have to 💩 on the sidewalk. Plenty of green (grass), gray (city), pink (gardens), and blue (water) spaces in this city.
Have you ever heard of Dumbarton Oaks? I recently visited this area for the first time. It's a huge garden/research center hidden right next to Georgetown University! Who knew?
---
Do you have plans to visit Washington D.C.? Or do you live here and have a favorite part of the city that I missed?
⇩Let's chat in the comments.⇩
[one_half]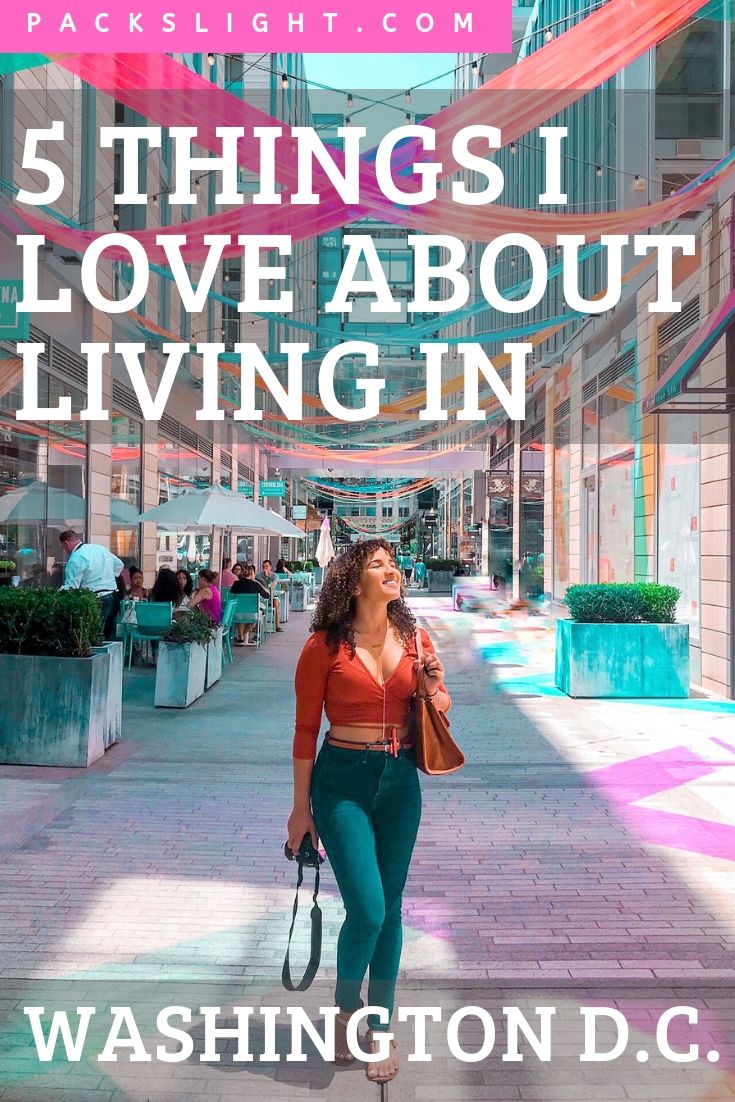 [/one_half][one_half_last]
[/one_half_last]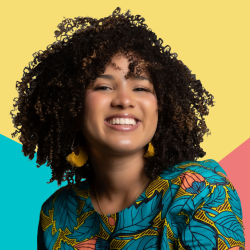 Latest posts by Gabby Beckford
(see all)