Reading Time:
4
minutes
There must be close to a million "A Weekend in NYC" posts out there on the internet, but here's *DJ Khaled voice* another one.
However, this one is designed for my fellow 20-something/college student/young professional girls looking for a one day-ish adventure in the most populous city in the world.
This is more than your guide to the hottest clubs and bars (though we definitely went to those as well)—this itinerary gives a wholesome amount of food, art, shopping, and IG-worthy locations that can be seen in a 24 hour period.
For those living on the East Coast of the United States like me (or even Central US), you know there are many ways to get to the Big Apple. My personal recommendation is taking the bus!
I felt your cringe just now, and though I have definitely had my horror experiences taking charter buses before, I had one experience with GoBuses that really changed my mind. They're the only bus line I can really vouch for, but to find the cheapest bus ticket deals I recommend using Wanderu.
Anyway, we arrived 9PM on Friday to our hotel, Hudson Hotel. (hence the "-ish" in the 24-hour itinerary). At about $120 per day it's not exactly backpacker budget, but all the amenities of the hotel and the location definitely add up to me. My room came with a $10 free credit for food and $10 credit for the bar! That 17% of the cost right there.
And I can personally vouch for the food at their hotel restaurant, Umami. Their truffle fries are addictive, and the atmosphere in the restaurant is very social and welcoming. We spent the first night in the restaurant having drinks and chatting next to the fireplace.
The next morning we were up early to make the most of our 24 hours. Out of the hotel doors by 9:30AM, we headed straight to Times Square, which was luckily only a 15 minute walk from the Hudson.
We checked out the goings-ons in the square, meeting some of the famous Times Square cops, and taking in all the lights and flashing advertisements coming from every direction. Times Square is never empty, but I was happy we went earlier in the morning so that we missed the mid-day rush.
I've been to Manhattan a few times, but I swear Times Square never gets old. Not because of the glitz and the glam, but because when you tune all of that out you hear the excited shatter of all the tourists in French, then Russian, then Chinese.
People coming from all over the world to be excited in the same place you are. You also notice the people who couldn't care less—the locals who cross the square in their lives every day going from Point A to Point B—and wonder about their lives as well.
After taking our share of photos there, we went into the nearby Forever21 to find some clothes. If you are looking to shop I definitely do recommend shopping near Times Square. I'm not sure if they were switching seasons or because of the location, but almost everything was on sale and at a huge discount! We found the same thing true at the Victoria's Secret and TopShop we visited.
With all that shopping done it was around 12PM, and we went back to our hotel for our second outfit change of the day.
Dressed in our New York outfits, we went off to lunch at 230 Fifth Ave, a popular Instagram-spot we'd come across. We ate brunch and had mimosas on the 26th floor of the building, which was filled with cool, funky shaped furniture and had a DJ booth. It had a great urban vibe with a lot of colours, and felt like a young crowd. The real fun was upstairs on the rooftop—you can probably tell why by the photos below.
The igloos were uber fun, and though they weren't heated they got warm inside quickly, which was great to have a drink in even though it was a bit chilly! It's partly designed to have strangers sit in the same igloo and get to know one another, which I thought was awesome. We hung out for a while and snapped some pictures, and then headed off to our next destination: the Marlborough Gallery.
We'd also found this place on Instagram, and I've recently been trying to visit more museums thanks to my Washington D.C. bucket list, and since it had started to rain it was a great way to pass the time until the evening. And—of course—while it was great for the 'Gram, it was great for our pockets too as it was free!
A night out in New York is practically nonnegotiable when you only have a day there, and of course that has to start with dinner somewhere. We opted for a restaurant called Vandal near the East Village. Great spot with a moody, urban vibe, walls covered in tasteful graffiti and a big, upside-down, purple bunny greeting you at the door.
My type of place.
Drinks, like anywhere in New York, were disrespectfully expensive, but the poke bowl I tried tasted AMAZING, and the experience itself made it totally worth it in my eyes! We spent about 2.5 hours there nibbling on food, drinking our outrageous $18 frosé, and chatting with a friend we met up with. It was definitely a place you could be in and have so much fun in the environment that you don't notice time pass.
Finally, we headed from that restaurants to our friends house in Queens to smoke hookah and chat more.
If you don't have friends you can meet up with in the city, it's easy enough to find them if you plan a bit ahead and post in Facebook groups like GirlsLoveTravel and BlackTravelMovement and see if there is anyone in town who wants to meet up or go clubbing. It's always nice to visit somewhere—especially a chaotic and limitless city like NYC—with a local who knows the best lounges and clubs and is familiar with the area.
We hookah'd, talked, and clubbed until 3AM and then dragged ourselves into our final Uber (use my promo code to sign up: gabbyb96) back to our hotel.
The next day we woke up groggy, tired, but completely happy with what we'd gotten to do the previous day.
A day in New York City could never be enough. We could have gone to Williamsburg in Brooklyn and gotten some amazing food, done tours of Soho, gone to see the Statue of Liberty or up the Empire State building, or ridden the subways from Staten Island to the Bronx.
Yes, we stayed mainly in Manhattan. But, we didn't want to spend the majority of our time rushing between events and feeling pressured. This itinerary was moderately budget friendly, stress free, and a great mix of food, art, unique experience, alcohol, and some amazing New York activities.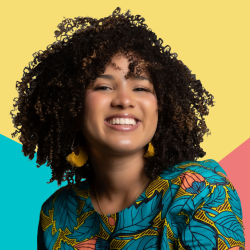 Latest posts by Gabby Beckford
(see all)