Reading Time:
3
minutes
The Young Traveler's Network series showcases candid guest interviews of young people worldwide and the inspiring stories of how they navigate their lives and travels. They share their stories to educate, inspire, and empower others to see the world!
This week a Young Traveler named Monika, 25, shares how she moved from Poland to Morocco.
---
She moved to Casablanca in 2013, following her receipt of a Bachelor of Arts in teaching English. Morocco is now her heart and her blog Bewildered In Morocco displays this as she writes numerous articles about her life in Morocco and her perspective as an ex-pat there.
Straight from her website, Monika chose Morocco because:
It's a bewildering country of endless possibilities. It's not a place for people who want an easy life–but I love challenges, so here I am.

Morocco provides you everything; opportunities, culture shocks and diversity. It is a place where traditions clash with modernity,  luxury houses are built next to slums, a country where you can enjoy the sea, the ocean, mountains, forests and desert.
Regarding her passions, Monika has a love of dance that has lasted her entire life. She herself was a dancer for many years until a knee injury in 2010, causing her to stop dancing. She misses it dearly, but thinks her love of dance, and particularly African-influenced dances, may have played a part in her moving to Morocco!
She's so grateful for this because she believes that her knowledge of music and dance has given her insight into Moroccan culture that she believes she wouldn't have been able to understand otherwise.
Like most travelers, and perhaps especially the young ones, money is an endless issue (preach, sista!). She also says once you choose a life of travel, though, money seems to shift in line with your priorities.
Instead of dollar values, that new iPhone now equals the price of a plane ticket, and a cup of coffee at Starbucks could be a cup of coffee in Istanbul.
Click To Tweet
Aside from the pressures of money, Monika feels pressure from both family and friends who also have expectations for her—usually including a husband, a white picket fence, a master's degree, and some "sense"… There's also the occasional traveler's nostalgia, where you're happy you're out living an amazing life, but can't help but think of the life you left behind as well.
But Monika can't stop now. What keeps her on her toes for her next adventure is the need to explore, and to soak up as many new things and places into her life as possible. Her favorite thing to say is that "the interaction between people from different cultures through travel is the best way to learn".
If someone were young and hesitant to travel, Monika would tell them that when you start living, you start learning. So start traveling!
If you'd like to connect with Monika and learn even more about her life as a young traveler, you can connect with her on the following social media:
Bewildered in Morocco Blog | Monika's Instagram
---
Have you been to Morocco?
Drop a comment below & don't forget to add yourself to the Young Travelers Network Facebook Group!
Are you interested in writing for Packs Light? Apply to become a contributor.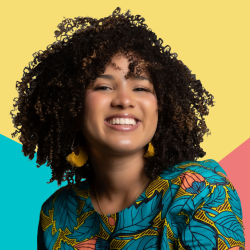 Latest posts by Gabby Beckford
(see all)