Living and working in Dubai, UAE has one of the biggest privileges of my life when it comes to being a digital story teller and travel blogger. The service industry here is unparalleled and for the cost, the level of luxury seriously boggles my mind.
I was invited to the W Hotel Dubai Al Habtoor City to for a meal in their Level Seven restaurant. The theme of the night was 'Meat Me', and it was very nice to meet them. But before I get into all that, here are some details about the night:
What: Meat Me Monday—A buffet of meats including cold cuts, steaks, seafood delights, tender, lamb, and more.
Where: Level Seven, W Dubai Hotel Al Habtoor City
When: Every Monday from 7PM – 11PM
Price: 260AED, or $71 USD
When I walked into the restaurant I saw that the food was served luxury-buffet style with artisan chefs standing waiting to carve up beef filets, fish, chicken, ox, and other tasty beasts for our treats (but no pork!).
My +1 and I were warmly greeted and led to our seats through the dining room. I noticed that Level Seven was divided into different sections for dine-in, leisure, and lounge. When we were seated at our table the staff brought out stools for our purses and briefed us on the layout of the buffet and the menu for the night.
*Record scratch* Yes, you read that right—purse stools. …I love Dubai.
After ordering a bottle of Chianti to go with our meal we began our stalk at the starters. The raw seafood bar and cold cuts couldn't be passed up, and the chipotle aoli dipping sauce I tried it with actually complimented it surprisingly well.
Right next door was same lamb tajine—an Indian dish—and of course traditional biryani.
I did appreciate how Level Seven was sensitive to it's diverse clientele and made sure that the food was culturally diverse too. I saw Spanish-style seafood paella, Italian beef ravioli, Mexican style carne asada tacos, and more.
Raw salmon, seasoned chicken breast, lamb chops, and angus beef sirloins where available raw to be cooked in front of you to your liking.
One of my absolute favorite dishes of the night was the "individual" portions of cod and foie gras. I say individual with quotation marks because I ate enough to feed a small family, but it was impossible not to!
While politely ravaging the meat mountain I'd accumulated from my buffet rounds, I also enjoyed their tomato bisque and seafood paella, both of which I can't recommend enough.
And in the midst of all of that our attendant Josh brought over a selection of high quality steak, sirloin, and ribeye to choose from— I chose the filet steak while my companion chose the sirloin.
Note: the Meat Me Monday deal is not alcohol inclusive. But on Sunday's the wine menu is at a 25% discount, so a bottle of this amazing Chianti would only cost around 250AED, or $68 USD.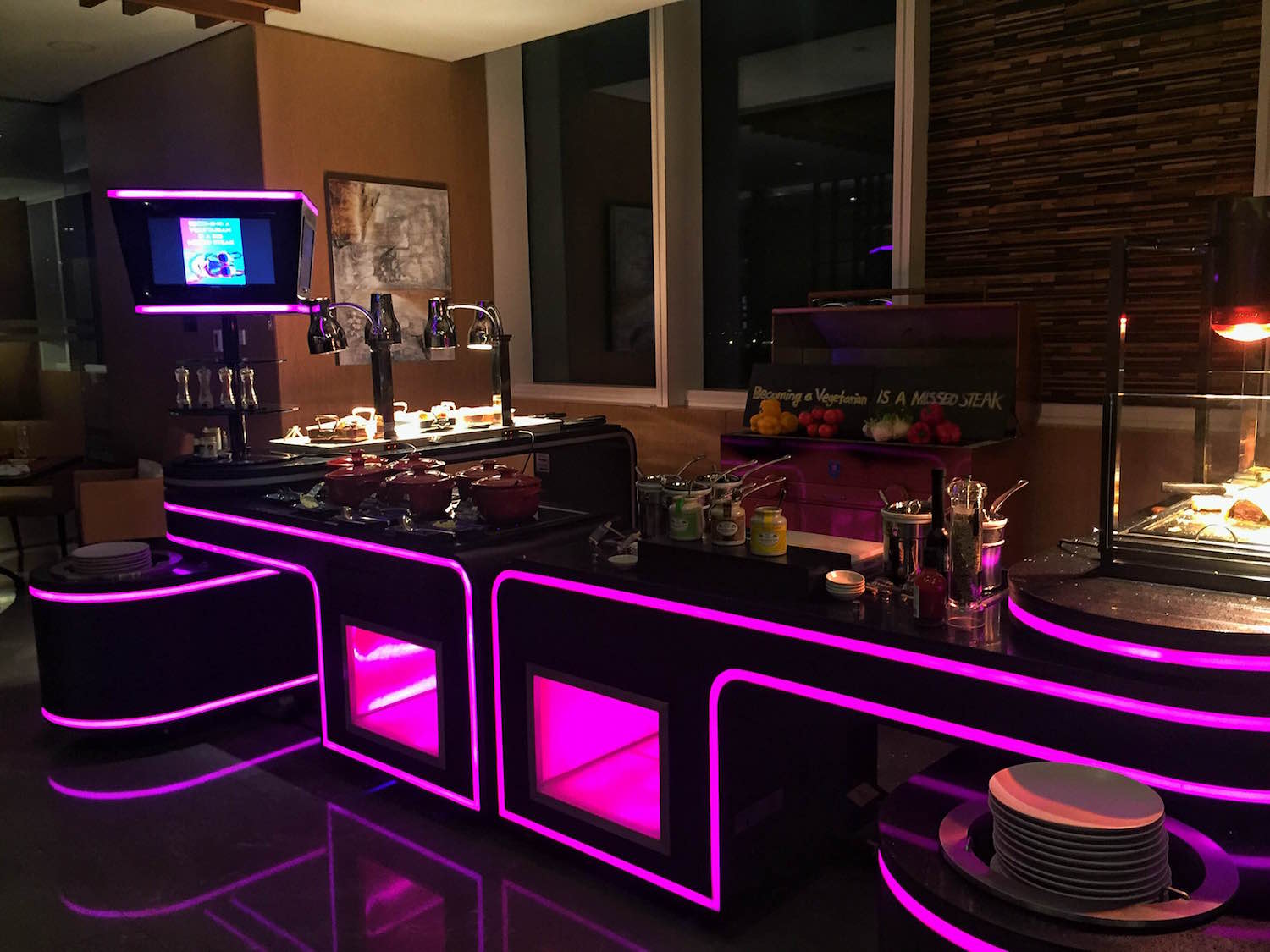 One meat mountain, two mojitos, and 1.5 glasses of Chianti later and I was absolutely spent, with not even room for dessert.
To walk off all of that decadence my friend and I decided to take a quick walk around the wet deck to see the rooftop pool we'd heard brunch rumors about. Of course it was empty at almost 11pm on a Monday night but I knew the private cabanas, pool-side bar, and gorgeous pool would be amazing during the day.
Raincheck, of course. 😉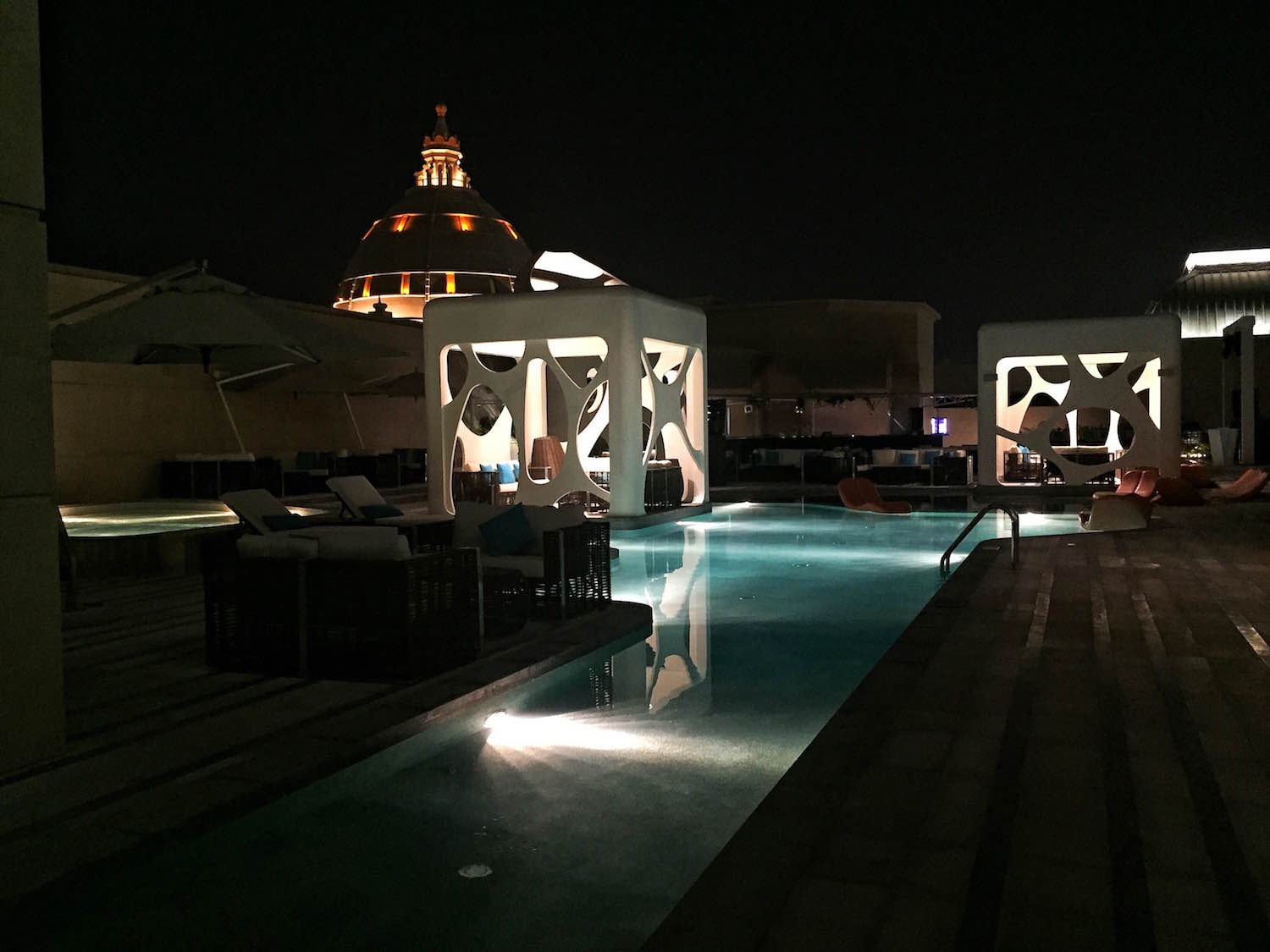 And so came an end to my meal in Level Seven at the W Hotel Dubai Al Habtoor City. The W did not request media coverage for this dinner. I wrote this review because I sincerely enjoyed the night and thus all opinions are my own.
I will definitely be back at the W Hotel Dubai, hopefully next time as a guest.
Thank you again, W Hotel Dubai Al Habtoor City!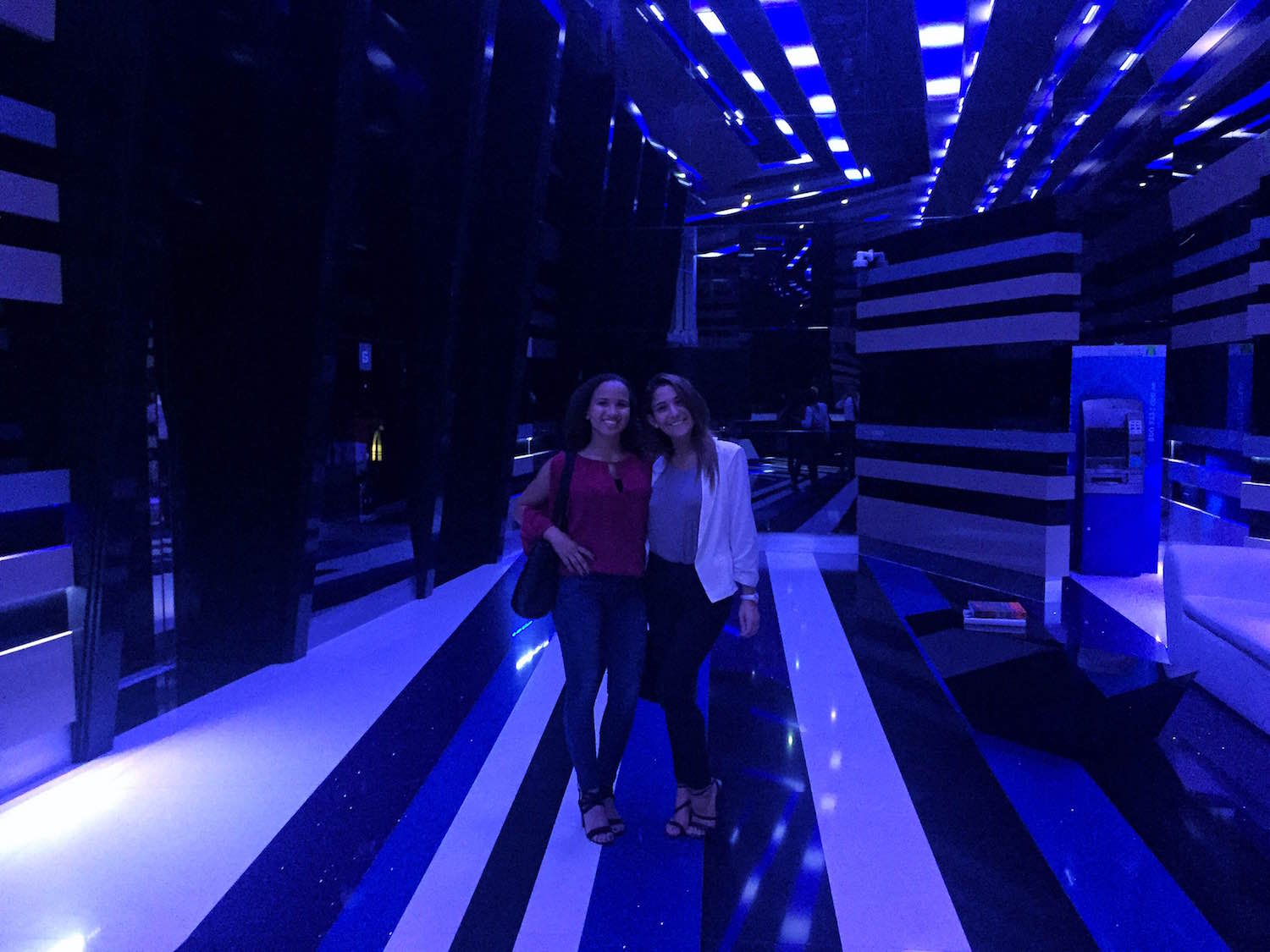 UPDATE 4/30/19: The W Hotel was changed from a Marriott franchise to Hilton as of 8/1/2018 and is now the V Hotel, Curio Collection by Hilton.