Creative Contests
Applications have closed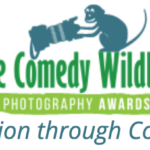 The Comedy Wildlife Photography Awards
Submit your funny animal photos for your chance to win a trip for two to Kenya
Who: All nationalities and ages can enter as long as the law in their country of residence permits them to do so
Deadline: September 1, 2022
---
Born from a passion for wildlife, and decades of experience living & working in East Africa, Comedy Wildlife began its life modestly in 2015 as a photographic competition.
Since then, it has grown into a globally renowned competition seen by millions of people every year, with sustainability at its heart and behind all its aims.
The free competition, open to wildlife photography novices, amateurs and professionals, celebrates the hilarity of our natural world and highlights what we need to do to protect it. From a surprised otter to a swearing turtle, Comedy Wildlife's photographs transcend cultures and ages to bring a smile to everyone's face.
You can enter up to 3 images into each category, except the Amazing Internet Portfolio category where you have to enter 4 pictures. (More info on the categories below.)
The total number of images across all categories must not exceed 10. There is only one category for video.
The categories are as follows:
The Alex Walker's Serian Creatures of the Land Category: Enter your funniest pictures of wildlife which lives on the land. Couldn't be simpler.
The Spectrum Creatures in the Air Category: You guessed it, enter your funny photos of birds, bats and any other creatures that fly.
The ThinkTank Photo Junior Category: This is a category for kids with a talent for taking great and funny wildlife pictures. The age limit for this category is 18 years old.
The Amazing Internet Portfolio Category: A collection of 4 really funny wildlife images. You can put 4 unconnected images in, as your portfolio, but you will get more points if the 4 images are connected, say "4 African Mammal Funny pics" for example. They can also be 4 images which are really funny from a single scene.
The Underwater Category: For your photos of any creatures which live in water.
The Video Clip Category: You can enter up to 2 video clips and each one can be no more than 60 seconds. They should be a maximum resolution of 1080p HD at 30fps with a maximum file size of 150MB but any resolution below that is acceptable too. Videos will be uploaded to Vimeo. Do not add music, captions or anything like that to the video (don't worry about peoples voices that's ok), but do make sure you edit it as carefully and wittily as possible.
Interested in other creative competitions? Check out Nikon's Small World contest! 🔬📸
What do you get if you win?
If you win one of the categories, you can say that you are an 'Award Winning Photographer', and you will also receive a beautiful certificate and potentially a camera bag.
The Overall Winner, or the 2022 Comedy Wildlife Photographer of the Year, will win a trophy, two photography bags, and a one week safari in Kenya for two people with Alex Walker's Serian. The safari prize is to be used in one of their v based camps in Kenya.
Note that T&Cs apply– the first is that flights to and from Kenya are not covered. The other is that when you travel to Kenya and visit the Maasai Mara your companion will have to pay concession fees and the domestic flight. These are the fees that are paid by every visitor to the parks to assist in creating a sustainable form of wildlife conservation.