Up to $25,000 for Undergraduate level students to study critical languages
Who: U.S. undergraduate students, 18+
Deadline: February 2, 2022
Boren Awards are given to graduate or undergraduate students pursuing a fellowship or study abroad in an area deemed 'critical to U.S. interests'. They are available to students of all proficiency levels (even absolute beginner, like I was!) who are committed to enhancing their skills in a wide variety of critical languages.
Boren Scholarships are for U.S. undergraduate students, Boren Fellowships are for U.S. graduate students.
The scholarship program is open to undergraduate students while the fellowship program is open to graduate students. Applicants can win up to $25,000 depending on the length of their program and their field.
🙇🏽‍♀️ What can you study?
The following languages are the ones you can consider when thinking about applying: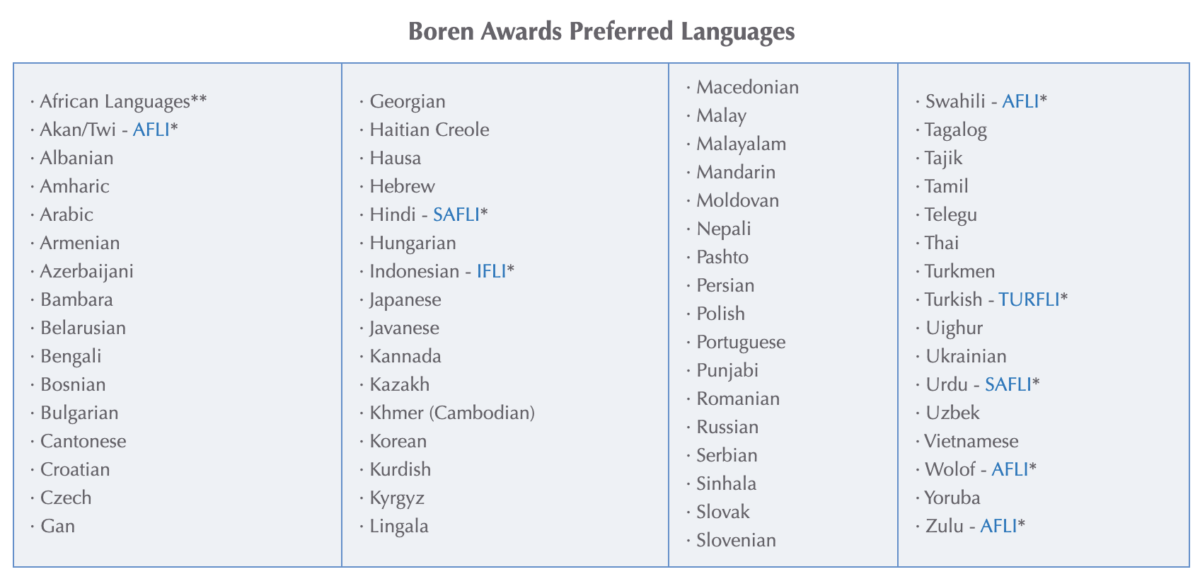 🌎 Where can you study?
Boren Awards fund study in Africa, Asia, Central & Eastern Europe, Latin America, and the Middle East.
The countries of Western Europe, Canada, Australia, and New Zealand are always ineligible for Boren Awards funding—because they speak English (mostly). So don't try it!
🕵🏽‍♀️ Whats the catch?
To put it plainly, the Boren Awards are an investment/loan. Because the U.S. government funds the scholarships (indirectly through the National Security Education Program, but still, technically).
Here's the deal: they give you $25,000 to study abroad, you work for the U.S. government in some capacity for a minimum of 1 year.
My example: I won the Boren Scholarship in 2016. I studied abroad in Dubai, UAE and learned Arabic. After I came home and graduated, I worked for two different U.S. contractors as a Quality Engineer, Data Analyst, and Business Support.
Over 2 years I racked up what counted as 1 year of service work for the U.S. government, and was relieved of my debt! I think it was a great deal because I got a year abroad, they helped set me up with a great paying job just after graduation.
🔬 Special STEM allowance (how I won the Boren!)
The Boren Scholarships offer special eligibility for undergraduate STEM (science, technology, engineering, and mathematics) majors, who are eligible to apply for up to $8,000 for summer study (minimum of 8 weeks).
As with all Boren Awards, STEM applicants are expected to have a significant language component as part of their proposed study abroad programs. Language study helps students in STEM fields distinguish themselves from other applicants for competitive positions, especially in cybersecurity, engineering, and research with the federal government.
Ask any questions in the comments!