Reading Time:
3
minutes
This year I executed my 3-year plan to quit my 9-5 engineering job and travel the world full-time… two weeks later, a pandemic hit 😅 Here's my 3-month update!
Now that we're three months into the coronavirus, and some of the people in the U.S. are getting antsy thinking like "I think I'm gonna start traveling now" even though no one says it's safe to do so.
Since my 2-month IQMJTB update, I'm taking a good look at all of my travel options and willing to explore what I feel comfortable with risking.
Want a video summary? Watch my Youtube video!
Remember the days we didn't have to wear a mask? Now I have seen so many styles it has become a fashion statement with the added safety feature to lower the curve for COVID-19.
The cases of the virus are growing record-high day by day in the United States and it feels more like we will have to continue dealing with this until the end of the year… Hopefully, our willful ignorance can change as must take this virus seriously.
Although the travel industry has taken a beating, I stay productive focusing on more creative projects allowing good opportunities to come my way during this:
Travel blogging updates since the 2-month update:
All I wanted to do this year was travel internationally and be in Bali, go to Chile to hike Patagonia, go to Bolivia and go to the Andes. It's very depressing to just say I probably won't travel internationally but I'm always leaving things open to happen.
If the universe wants to destroy the pandemic in one fell swoop tomorrow, make airplanes very empty and very cheap for some reason then I will travel, but until then probably not.
I also just opened mentorship opportunities—the Packs Light 2020 Summer Internship. I will have 4 mentee positions: blogging, social media, funded travel opportunities, and video content. (Mentee applications deadline has now closed)
These mentee positions are for people who want to learn about blogging, entrepreneurship, digital marketing, and the remote work that bloggers do every single day! It is a volunteer mentee position so it's not paid traditionally, it's not hourly, they are opening up for this summer and end at the end of summer.
This is five years' worth of trial and error with the experience that you could get in one summer or beyond so I'm happy to open them up to my dedicated community!
What will brand partnerships look like in travel post-COVID?
The sentiment I've been getting from brands and tourism boards that I have chatted with is that they have no budget, so they're gonna be paying people a lot less which is like not inspiring.
This is their job to want people to come to these places regardless, as soon as possible but do I want to encourage that for my audience?
I don't know—those are the kind of thoughts that I'm navigating right now, it is pretty difficult to know what the heck is going on.
My day-to-day
Vlogging is going well! I'm still writing my weekly column for Budget Travel, which I love!
I am talking to a pretty big brand, I'm not gonna like to tell you guys who it is. Since I was a kid I always would say I wanted to work for them, and if I could with them in this capacity as an influencer that would truly be a dream come true, and I'd get to have my cake and eat it too. 😋
Figuring out myself summer plans
Looking at all of my options, like I am thinking about doing a road trip which I don't want to do actually because I hate driving.
I don't want to go on a group road trip. I can't imagine like people in one van just being in the car 24/7 like that doesn't appeal to the introvert in me…
There's one transcontinental train that goes like up across the top of the U.S. through Chicago. So I may look into that but I have no idea how expensive that is since I don't know if prices are up or down because of COVID-19.
What travel am I looking forward to the most?
A live chat for Pandora Radio that I've participated in last week representing Gen Z and their travel interests post-COVID-19 and I'm doing another the week after next week. They asked me on the live chat, "What do you want to do? What travel are you looking to do in after the lockdown ends?"
Like y'all, I'm risking it all!
I will be jumping out of planes, spelunking, and rock-climbing. I will get my scuba driving license and will be wrestling rhinos if you'll let me be a wildlife vet, I will do that 🏄🏽‍♀️
The types of travel I'm gonna be doing if you all want to take a trip with me like I am NOT just some girl behind a blog, I am travel adventurer who wants to get out there in post-COVID-19.
… So the adventure continues!
How is a travel-based business faring right now? Business opportunities are still coming by.
Reminds me of the quote from my Delusional Confidence workbook:
It took time and effort, I'm no different which means you and I can achieve what politicians and governmental leaders can.
Follow my journey during the 4-month update ✌🏽
---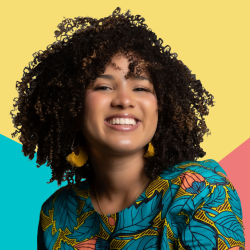 Latest posts by Gabby Beckford
(see all)