Reading Time:
3
minutes
I quit my full-time engineering job on February 14, 2020, to be a full-time travel blogger.
By March 1, 2020, the coronavirus had hit my state and locked everything down… Now it's been 55 days in quarantine 🙃
Compared to my 1-week or 1-month IQMJTB update, this time I've mentally settled into the reality that travel will never be the same, and I need to let go of my 2020 plans. I dig deeper and share exactly what I'm doing as a travel blogger who doesn't travel, and how I'm handling it mentally.
Want to see the 5-minute summary? Watch my YouTube video below:
I still remember when we all were saying "it's just like the flu" and "fake news". Yes, in the early days when coronavirus was a whisper of news happening in far off places, even I held onto that mentality.
Now we have the equivalent of the 9/11 death toll (3000 people) happening in the United States every day from the virus, and we seem completely numb to it. Willfully ignorant is perhaps more accurate.
And while the travel industry has been beaten to a pulp, I have to say that having an abundance mentality and staying productive has allowed good opportunities to come my way even in the midst of all of this:
Travel blogging successes so far:
I was featured in a print magazine!
I was featured in my first print magazine with All Recipes, a large culinary magazine! Wow!
As someone with absolutely zero traditional writing experience aside from my ENGL101 class in college, it feels surreal. I worked back and forth with editors for months working to make it perfect. And I was paid. Can I get a hallelujah?
I'm very happy with the way it turned out as I shared my favorite foods and restaurants in the U.S. Virgin Islands, and D.C. If you have AppleNews+ you can read it here.
Connnection & collaborations
During this quarantine, I've been a part of more collaborations than ever, and it's been absolutely amazing. I even co-produced a PSA video with my friend Jeff Jenkins called #UnitedInTravel. It was even shared in the TBEX email newsletter.
As far as connecting with my family more… a TikTok of my dad accidentally viral this month, LOL.
No, I have not told him. And no, he will never know unless someone reads this and tells him.
Accepting guest posts
This past month I've decided to begin accepting guest posts to Packs Light. I already have had my YoungTravelersNetwork blog series, but with the travel pause I want to expand the topics we cover and the stories I share.
I recently shared the first guest post latest post on having some perspective during this travel pause, and it was very well received! I'm so excited to share more interesting stories from talented writers of all ages, but especially young & upcoming writers.
If you're interested in writing for Packs Light, you can
apply here
.
Mourning what 2020 might have been
Mental health during this time has been a hot topic, and I've wrestled with my fair share of it. It's not so much doubting my path or my abilities—how can I, with my delusional confidence?—but mourning the incredible, adventurous, once-in-a-lifetime travel experience I wanted to have this year.
It's 100% from a place of privilege that I'm able to be annoyed, upset, and disappointed that I'm not able to travel this year. But I still acknowledge that I have those feelings. And it's difficult when people say "at least you're saving money" because they're not wrong.
It might sound selfish and sick to say that I would rather give up all the money I'm saving right now to be able to travel instead. But that's only because this was supposed to be For the past 3 years since I step foot back on American soil, it's been my mission to be off of it again for an extended period of time.
I studied, graduated, hustled, worked, commuted, and grinded (*ground? Like sausage?) for this—February 2020, I was to quit my full-time job just take a break.
I wanted to rent a $1000 Airbnb for a night just because I could. Stay in $15 apartments in Chile and sleep in until 11 AM. Wake up and book a flight to a different continent. I know it sounds extraneous, but that's because it absolutely was.
Click To Tweet
I consider myself extremely responsible and strategic, I have been since I was 4 years old and stole a peanut from the supermarket to feed the elephants at the circus later that summer.
But 2020 was finally my year to… not be those things. To be extraneous. Irresponsible. Impulsive. Wasteful. Erratic. To explore that side of myself. But again, what a privilege to have the financial security and support to even plan that!
Alas, the hustle continues!
I'll be on a live webinar panel next week with Pandora (radio, not rings). I'm creating ebooks, courses, and products now more than ever. I continue to write about my passions, find new opportunities, and find success in a terrible time.
But how viable a travel-based business can be right now? No one knows.
And that maybe the craziest part of all of this! No one knows anything. Everyone—politicians, health officials, government leaders—absolutely everyone is making it up as they go right now.
So, if anything, I guess I'm right on par!
Follow my journey during the 3-month update ✌🏽
---
[one_half]
[/one_half][one_half_last]
[/one_half_last]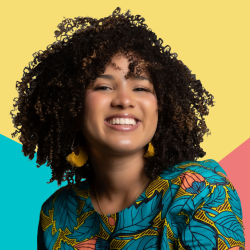 Latest posts by Gabby Beckford
(see all)