Reading Time:
4
minutes
Hey guys, it's Gabby! It is Day 12 of being a full-time travel blogger, and as you can see in this week's vlog below, my environment has changed a bit from the Day 1 check-in.
First off, I'm sorry that this is not exactly a one-week update. I had a few big events happen to me…
Full-time blogging is just life with longer hours. Here's what's happened off the blog…
Exactly on the one-week mark, my dog of more than 16 years passed away very suddenly.
I was alone with her for the weekend while my family was away on vacation, so I had to make the decision and be with her while she fell asleep. I've had her since I was 9 years old, so you can imagine how difficult this was for me. This is the main reason I needed to prioritize my grief over my blog for a bit.
Also, my family has gone through a pretty big transition and my living situation is a bit uncertain! That doesn't sound very extreme, but it does have me acknowledging the lack of security in my current situation.
Current anxieties include: Should I have quit my job with COVID-19 causing such huge travel delays and worries? I just moved from my own apartment; can I handle moving again? Should I move outside of the country now to have more secure health insurance?
There are no clear answers to this, but these doubts are a reality of taking a leap as I did! I still have no regrets about my decision.
How do you become a full-time travel influencer? I'm finding out! I'm 24 and I quit my engineering job to be a travel blogger. This is Week 1.
Click To Tweet
So… how is content creating going
Delta Airlines Partnership
Well, one of my first successes in my new full-time blogging adventure was being personally sought out to contribute to Delta Airlines' Black History Month Instagram Campaign.
For me a partnership like this was huge, and I was so happy to be a part of it and have it kick off my first week.
WITS Speaking Engagement
I also announced last week that I'll be speaking at the Women in Travel Summit (WITS) in Kansas City from May 1-3, 2020. It's an international women's travel conference. If you'll be in the Kansas City area and want to attend, you can use the promo code 'gabby' for 15% off of your ticket.
I've been told WITS will host 400-500 people! It's going to be intense and I can use all the support.
I believe I may be one of the younger, or if not the youngest, person to ever speak there. But I'm so ready to share my expertise on Gen Z Travel and my thoughts of the diverse, inclusive, adventurous future for womxn in travel.
Press Trip with Visit Savannah
And, finally, as I type this I am on a press trip in Savannah, Georgia as a guest of Visit Savannah. If you don't know what that is that is: tourism boards will bring journalists, media, travel bloggers, videographers, all sorts of creatives everything to create content and promote the destination.
A press trip means that the creatives don't come out of pocket for the experience, but it does not mean it's "free".
Everyone thinks being an influencer is taking photos and sipping mimosas when in reality it's trying to take the photo while sipping the mimosa while keeping a random fruit fly out of the lens while trying to hurry because everyone else on the trip is a journalist and doesn't care about photos, and then trying to edit that rushed photo into a relaxed, natural moment to share online to the critique of thousands of people.
Influencing absolutely has a complex interaction between reality and fantasy.
At 24 I quit my good-paying, secure, health-insured, 9-5 job to be a full-time travel influencer. Here's the extremely transparent 1-week check-in.
Click To Tweet
The 99% Influencer Reality
And this balance of reality v. fantasy is something I feel is important to touch on as I begin my business, and something I expand upon a lot in the YouTube vlog on the topic
This press trip and its images can be misleading. The reality is that a majority of travel bloggers and influencers do not make it to the big time where they're making millions every month and running their own conferences, etc.
I, for example, am here in this beautiful place! And then will fly home and make chicken noodle soup for dinner and sleep in my bed in my mom's house.
But I have the resources with this trip to portray the image that I do this all time. I could create content on this 4-day press trip that might last me six months, and if I didn't tell you wouldn't know otherwise.
I want to play a part in breaking that barrier between reality and fantasy because it isn't healthy, especially for the younger generation of travelers, to have these unrealistic expectations or normalcy demonstrated by influencers and celebrities.
Many people are going on press trips or splurging every once in a while purely for content and then going back to live normal, lower to middle-class lifestyles.
Sorry if I just killed Santa for you.
However, I personally only started one week ago. I truly believe that I will rise out of mediocrity and normalcy and stand apart as a very successful travel blogger.
See you at my 1-Month Update!
I want to close this out by saying that while I have had what many may consider an extremely successful week in blogging, what's important is that my resolution and passion stay the same through the poor weeks as well.
The reality of travel blogging full time is knowing that there may be times when things fall apart when I'm taken advantage of when I'm discouraged. But it's still worth it anyway.
This is just the beginning of even more amazing things for me. Even going into this second and third week, some amazing travel opportunities have been popping up that I can't wait to share with you.
For regular updates please subscribe to the Packs Light Youtube channel to follow my vlog series and the Packs Light email list below to get email updates as I continue.
As always, thank you for your endless support. See you in one month!
---
Are you looking to make the same entrepreneurial leap of faith, or just looking for a little more authenticity and transparency in travel blogging life? Tell me why you're here in the comments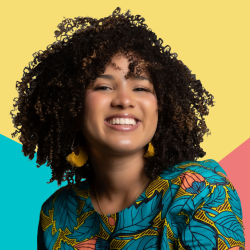 Latest posts by Gabby Beckford
(see all)