Reading Time:
4
minutes
The Young Traveler's Network series showcases candid guest interviews of young people worldwide and the inspiring stories of how they navigate their lives and travels. They share their stories to educate, inspire, and empower others to see the world!
This week a Young Traveler named Morgan, 25, shares how he is on a mission to instill a love of travel and curiosity in the next generation through education travel experiences.
---
Hey Morgan, thanks for your interest in YTN! Go ahead and introduce yourself!
Nice to meet you! My name is Morgan Bernard. I'm 25 years old and I live in Houston, Texas although I travel often. I co-own and operate a student educational travel organization, Knowledge on the Run, and I am a travel journalist!
So, how were you first introduced to the world of travel?
Although I was born in Houston, the first five years of my life were spent living in Jakarta, Indonesia, and taking family trips around Southeast Asia. From an early age, I was made aware of the fact that the planet consisted of all sorts of people with their own customs and culture and Western culture is not the center of the world. I was made comfortable with the concept of being in a foreign environment very early and it has definitely played a part in who I am today.
When I'm not traveling with students or writing, my primary reason to travel is surfing, and through it, I've grown to appreciate coastal cultures from all over the world. 
Morgan (25) is a millennial entrepreneur on a mission to instill a love of travel and curiosity in the next generation through his business, Knowledge On the Run. Read more on his interview. Click To Tweet
Wow! I love when parents encourage their kids to embrace travel too. So, what about travel continues to intrigue you now? What do you like about it?
In the summer of 2014, I was on a surf trip with my friend and now business partner, Keaton Day, in Nicaragua. The two of us had grown up together and we had always been enamored with the idea of working for ourselves, but we never really knew what we wanted to do. On that trip, after a pretty heavy day out in the ocean where things almost went south really quickly (but luckily did not), we realized that surfing and traveling are chock-full of life lessons.
Every time we introduce ourselves to a new culture, pursue a new skill like surfing or step out of our comfort zone, we become better people in response. Click To Tweet We had the idea of introducing this concept to students during their most malleable and influential years, high school. So, we went to work and created Knowledge on the Run.
My work as a travel journalist began as a happy accident. Writing has always been a passion of mine. During college, I interned at a magazine and was first introduced to the world of journalism. Starting a business the day you graduate college is a pretty daunting task and the money definitely didn't flow in for quite some time. So, we both worked various jobs. I eventually realized that I could make a living writing and I chose to write about what I love, travel.
Nice! Can you tell us a bit more about Knowledge on the Run?
Knowledge on the Run is a student travel organization that aims to cultivate the education of the whole student through travel. Our mission is to enrich the lives of students through educational travel and experiential education.
Our youth development experience goes far beyond the classroom to expose our students to cultures that differ from our own. Through unique experiences abroad, we place students in a position to grow as individuals. Traveling challenges our students and encourages the development of leadership, communicative, and collaborative skills. Through a strategic focus on daily writing, our abroad experiences provide invaluable self-reflection, which is key to personal growth.
It is our passion to explore the world and learn as much as possible along the way. Educational travel serves us in many ways, but most of all it is a fun, enjoyable experience that we hope to share with as many students as possible.
Do you go on these on the trips yourself? 
We do go on the trips! On Knowledge on the Run trips, we try to do as much as we can ourselves. That means doing months, sometimes years of research to become experts on a city or a region so that we can give tours and lessons ourselves.
Currently, I lead the destination lectures that can cover anything from history, art, or architecture, and my business partner spearheads our developmental framework that allows students to organically cultivate skills in leadership, communication, collaboration, and creativity during our educational travel trips.
We try to make everything as relatable to our students as possible. I hate the idea of doing a proper lecture or walking backward through a museum giving a tour that could be disruptive to others. Everything we do is more discussion-based and the information that would normally be delivered in a lecture is delivered over time in a city through little informational tidbits and through general conversation.
One "wow" moment that I've had on our educational travel trips is when students tell me they actually enjoy museum visits the way we do them and that they've never really thought they could enjoy a museum. Another that almost always happens is when students shed the protections of their conventional comfort zones during our trips and gain the confidence to try strange new foods or attempt to communicate in the local language.
In your opinion, why do you think travel is especially important in our youth?
I think when we travel, we learn to see ideas and traditions that we have only ever seen from a singular point of view from a new angle. It gives us perspective and introduces us to the fact that the world is a rich, wonderful, and complex place. The sooner we learn that no matter where you are in the world, people are generally kind, the better off we are as human beings. Click To Tweet People are constantly changing and evolving, but that is especially true when we are young.
During our teens, we begin to form some of our core beliefs that we carry with us into adulthood, which is why it's important to expose ourselves to new perspectives at an early age.
What advice would you give to another 20-something who wants to influence the next generation to travel, but doesn't know how to go about it?
If you want to encourage the next generation to travel, share your own stories of adventures abroad, local connections, or breathtaking landscapes that make every trip worth it.
If you're looking to start your own travel business or work in the travel field, know that it takes an enormous amount of determination, but ultimately, you'll end up doing exactly what you've always wanted.
Any closing remarks?
The piece of advice I would give is something I've been mulling over for the last few months: time is a scarce and valuable resource, so spend it exactly how you want and mean to.
Morgan's Blog | Morgan's Instagram | Morgan's Facebook
---
Did you travel when you were young? How did it shape you?
Drop a comment below & don't forget to add yourself to the Young Travelers Network Facebook Group! 
Are you interested in writing for Packs Light? Apply to become a contributor. 
[one_half]
[/one_half][one_half_last]
[/one_half_last]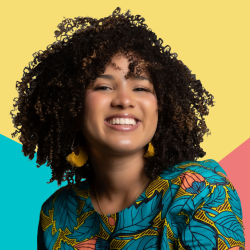 Latest posts by Gabby Beckford
(see all)