Reading Time:
4
minutes
The Young Traveler's Network series showcases candid guest interviews of young people worldwide and the inspiring stories of how they navigate their lives and travels. They share their stories to educate, inspire, and empower others to see the world!
This week a Young Traveler named Dave, 23, shares how he left school and 17 and is now making a living by traveling the world as a digital nomad!
---
Welcome, Dave! Please introduce yourself to everyone reading.
Hello, I am Dave Weatherall. I'm a 23-year-old blogger, travel writer, social media influencer, SEO-focussed copywriter, digital nomad, and a social good advocate.
What makes my millennial travel journey unique is that I left school when I was 17 to become an online entrepreneur and travel the world.
I am the creator of That Travel Blog. I help young people explore alternative ways to work and travel, outside of the typical 9-to-5. My mission is to create unique and insightful content that caters to an audience of young, ambitious traveling entrepreneurs and those who aspire to be one.
To get a peek inside a day in the life of Dave, I'm writing this on a train going from Warsaw to Krakow in Poland. My time on this train will be spent writing, replying to emails from clients back in the UK and thinking about additional ways I can monetize my blog!
What gave you the courage at 17 to pursue entrepreneurship and take this unconventional route as a digital nomad? Did your parents approve? Were you scared?
I have a reckless optimism that kept me going throughout the early stages where no-one believed in me. I have always wanted to be my own boss and I continue to pursue the dream of ultimate freedom to this day.
I told my parents from a young age that I would leave school to build my own business. It took failing my AS-levels at 17 for my parents to accept that formal education wasn't right for me.
I soon woke up to the harsh reality that I wasn't going to get very far without any contacts or experience. So, I got myself an assistant marketing job in London during the week and worked on my freelance portfolio over the weekends. By the time I was 20, I had started my own digital marketing company and moved to Portugal.
I was lucky enough to understand the importance of building a personal brand and communities online. Social media was the future in my eyes and I wanted to be a part of it. When you work hard and do good things for yourself, people will pay you lots of money to do the same thing for them too!
What were the unique challenges at the beginning of your journey toward becoming a digital nomad and was being so young one of them?
For sure! It's been 6 years since I left school, it took 5 of those years to get people to listen to me.
It's rare for people to believe in you when you are young, without formal education certificates, but the world is changing. The Internet is powerful and we (as young people) speak its language.
Click To Tweet
If you develop your skills online, I promise that the directors of huge companies will be making you tea just to listen to your secrets!
Why did you choose a travel blog?
I started blogging because I wanted to build awareness of alternative lifestyle choices, outside of the 9-to-5 so that 17-year-old versions of myself wouldn't feel so alone in a world where we are told we won't achieve anything without a university degree.
I often blog about ways you can get paid to travel, monetizing your blog and social media accounts and live as a digital nomad. I enjoy helping and learning from other online entrepreneurs and discovering where to go next!
I come from a small village in Kent. If you know anything about countryside values in the UK, you can imagine what that's like. Most people have lived in the same village their entire lives and are reluctant to expand their ways of thinking.
When I moved to London, I was blown away by the diversity. I met so many interesting people with opposing views. I think this, along with my indescribable need to see the world, sparked my curiosity to get out there and explore.
What countries have you traveled to on your journey? Any favorites or least favorites?
Since I quit my job 3 years ago, I have traveled to and worked from 19 countries! These include Spain, Germany, Italy, Portugal, Czech Republic, UAE, the Netherlands, Thailand, Singapore, and Taiwan.
If you love music and festivals, London, Amsterdam and Berlin are amazing cities to be in during the summer months.
Thailand and the Philippines are obviously beautiful and unforgettable countries. But I think spending 6 months in Taiwan was so different from anything I have ever done, as nobody I knew had been before or knew much about it.
I like being surprised by places, whether it is a good or bad surprise—that's all part of traveling!
Love it. What advice would you give to some other 17-year-old kid who wants to follow a path like yours?
Believe in yourself! Whatever you have in that brain of yours is valuable to someone.
Build your personal brand. A community that listens to you is one of the most valuable assets in the entrepreneurship world. Sometimes people ask me where to start or they tell me that they are struggling to develop their business idea. I always tell them it doesn't matter, just start creating content and develop a community that listens!
Get insider advice from #millennial #digitalnomad Dave, & learn about his blogging business!
Click To Tweet
Everything I have now is thanks to starting a Twitter account in 2009, just sharing my thoughts. That evolved into more accounts, a digital marketing business, and a travel entrepreneurship blog. Today, I get paid to post about brands I love on social media and write about what I do to help others.
Remember that failure is irrelevant when you are doing what you love. You only fail when you stop believing in the hard work it takes to get there.
Click To Tweet
And finally—any closing sentiments?
I live my life by these three quotes;
"Instead of wondering when your next vacation will be, maybe you should set up a life you don't need escaping from."

–

Seth Godin

"And then there is the most dangerous risk of all — the risk of spending your life not doing what you want on the bet you can buy yourself the freedom to do it later."

–

Randy Komisar
Finally, in the words of Jim Carrey in his commencement address to Maharishi University when explaining the life choices of his late father;
"You can fail at what you don't want. So you might as well take a chance on doing what you love."​
---
Have you ever considered taking a less traditional path?
Drop a comment below & don't forget to add yourself to the Young Travelers Network Facebook Group! 
Are you interested in writing for Packs Light? Apply to become a contributor.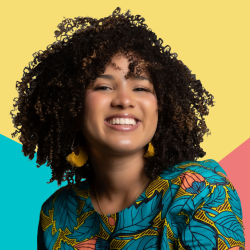 Latest posts by Gabby Beckford
(see all)