Reading Time:
9
minutes
Travelers love to tell stories, that's no secret. 
There's that drastically overused quote by Ibn Battuta that goes,
"Traveling—it leaves you speechless, then turns you into a storyteller."
Cliche, but true.
Especially solo-travelers, as traveling alone really gives one a lot of time to reflect on themselves and their journeys, and once you have all of these amazing epiphanies and experiences, who wouldn't want to share them?
And of course, being an avid solo-traveler myself, I'm always interested in reading about my fellow travelers newest adventure (or mis-adventure).
You should probably like listening to stories if you love telling them, right?
But hearing all stories from amazing globe-trotters and them hitting their 50th country or 5th year abroad, made me wonder—where did it all begin?
How old were they? What made them take that first solo trip? Did their experience lead the trip straight to hell, or did everything fall perfectly into place (beginners luck, if anything)?
So, I asked 10 avid travelers to share their stories with me, and give an acorn of advice to anyone looking to set out on their first solo trips!
---
A Layover in London
" When I was 19 I was on my way to a medical service trip in Ghana, and thought it would be a great idea to stopover somewhere in Europe to travel a bit—so I stopped over and did my first solo trip London for 3 days.
The trip turned out really great! I was thankful to go to an English-speaking country to avoid any language barrier because I was really conscious about safety and planning, but everything went very smoothly. I learned how free solo travel could be and how much merit there is to visiting a place with so much history!
That trip absolutely affected me, and was an important step in getting me to where I am today. Instead of being in my comfort zone all the time, I had to plan my itinerary, talk to my hostel roommates about great places to see, and get used to relying on myself. It showed me how free I could be when I travel alone.
Since then, I've been to 10+ countries alone and moved abroad after college graduation!
If you're skeptical or scared of traveling solo, start small! There are stories of travelers who stay abroad for years and hitchhike across the Middle East and get all their stuff stolen and have to work as a bartender to be able to pay for a new passport to get out of the country…
Don't let that craziness scare you! Travel is different for everyone, and solo travel is a process.
Taking a weekend trip somewhere or spending a few days on a stopover can be enough. It doesn't take much to be fulfilling!"
– Alice C., 23
No Shame Being Solo, in Coron
" I took my first solo trip at 25 years old. The Philippines is largely community oriented, and so whenever I travel it's always with someone – family, friends or boyfriend.
Last year, it happened that my boyfriend wanted to focus on work and invest on more photography equipment for his gigs. As he was saving money, there wouldn't be any more trips until he's settled. I know this wasn't his fault, but I was so frustrated that I booked a solo flight to Coron, Palawan! It turned out be my best travel experience that year.
First of all, there was nothing awkward or uncomfortable in traveling alone. Yes, people would sometimes wonder and ask me why I was alone, but other than that it was pure bliss and freedom.
Because I don't have any company to consider, I can do anything I want! It didn't hurt that this happened in one of the most amazing places in the country. I did island hopping tours and explored clear lagoons, beaches with splendid snorkeling areas, postcard-worthy nature attractions. I was so happy I was already planning a future trip back to Coron on my third day there!
This solo trip made me re-discover freedom and gave me confidence that I can do things on my own. My boyfriend's very supportive of me. I've already booked another solo trip to Dumaguete and Siquijor in the Philippines to see some sea turtles and swing toward basins of waterfalls.
I say for anyone who's still afraid of going solo: Book. That. Ticket!"
– Katherine, 26
10 travelers spill the stories of their first solo trips! (and give some advice) #solotravel #travel Click To Tweet
Local Adventures, Big Rewards
" My first solo trip was to Philadelphia, PA way back when I was a 21-year-old student in Kalamazoo, Michigan. I had decided to go to Philly for a few days during 4th-of-July weekend before I had to meet my then boyfriend in Boston.
He refused to come with me and even though we were in a long distance relationship! I felt trapped. I just wanted to escape. It was also a trip where I realized I preferred traveling over spending time with him and that it wasn't meant to be. (Needless to say, we broke up soon after.)
 The trip itself was both good and bad—though mostly good. I was really nervous because I did the trip by Greyhound and stopped in really shady bus stations in the middle of the night.
It was also my first time Couchsurfing, but I met the most wonderful two girls who showed me a side to Philly I would never have discovered by myself!
This trip taught me that people are mostly always kind and accommodating in this world, especially if you're a traveler. It taught me to be trusting of more people. It made me realize I didn't need someone to make me feel whole. I've never managed any solo trips post that trip. In a way, I'm lucky I have friends worldwide!
My advice would be: Just do it. Make sure you've got all your bases covered and be 100% aware of what's happening around you. Bad things can happen anywhere, but it doesn't mean you can't take the plunge!
And also, that everyone should try CouchSurfing at least once!"
– Aneesha Rai, 26
From Feeling "Yuppy" to "Uppy"
" I went on my first ever solo trip when I was 24 years old. I had been working in NYC as a management consultant for 3 years directly out of college.
Toward the end, I was extremely sick of the "yuppy" (young urban professional) life and had gotten out of a bad relationship. I felt trapped, and so quitting my job and going on a solo trip felt like the only way out. In fact, I garnered the courage to do so by reading travel blogs of solo female travelers… those ladies convinced me that I had it in me to do it too!
I experienced many highs and lows over my 6 months in South America, with lows including spending my 25 th birthday alone in Buenos Aires and getting my phone and wallet stolen a couple nights before!
However, my trip also taught me that I was capable of building my life up from zero. In the process, I found a new life direction.
Although I haven't done another extended solo trip since then, I've since moved on my own twice, first to Barcelona then to Amsterdam, pursuing my interest in nightlife and travel.
For the ladies considering going on a solo trip but not sure about taking the plunge, my advice is to just book the flight and the rest will sort itself out. Read a lot of travel blogs from female solo travelers and you'll be convinced that you can do it, too!"
– Tendelle, 27
Solo Success in South America
" For my first solo trip I was only 18, just 6 months out of high school! I traveled South America for a year and visited Colombia, Ecuador and Peru.
The whole trip was so much more than I could have imagined. I learned Spanish, made some lifelong friends and had some experiences that I will always treasure.
 That trip really showed me that I can do anything when it comes to travel. Ever since then, I have fit in at least one trip overseas each year, and made travel my priority. Most of those trips have been solo and I wouldn't have it any other way.
As for advice, I'd say—don't worry too much about meeting people.
I am one of the biggest introverts out there and when I'm traveling, I am rarely alone. Stay in hostels and you will have a whole building of people just like you, ready to meet new people."
– Cristal, 30
Young, Solo, and Europe-Bound
" The first time I took a plane on my own I was just 15 years old!
I had been selected as a Junior Camp Counsellor for an international camp in Gjovik, Norway, with 11-year old campers from 12 different countries. I packed my suitcase, and my mom said a tearful (but happy) goodbye at the train station in Ottawa, Canada. From there, I took a bus about 2 hours to Montreal.
At the airport, I found out my bag was too heavy (!) and had to open it up on the floor in front of everyone! A nice girl from the bus agreed to take some of my clothes in her suitcase. I put my jeans in a plastic bag from duty-free to use as my "carry-on item". After connecting in Amsterdam, I flew to Oslo.
I then had to find a train to some tiny town nobody knew! Thankfully, I ran into another group going to the camp on the train, and together we made it to our destination.
Although I wasn't alone once I arrived in Norway, travelling half-way across the world on my own while I was still in high school was a big experience! It taught me to be independent, and that no matter what went wrong I could figure it out on my own. I could ask for help when needed, and not be afraid to approach strangers. Ever since that trip, I've been taking longer and farther trips on my own. If you feel like traveling, but you're afraid, you just need to do it. It's going to be scary until you realize that you're capable.
It really shaped the person who I am today, since I currently work in international development, and live in various "developing countries" for a living!"
" At 22, having recently graduated college, a friend and I were made plans to travel to Europe together. However, something happened and my friend wasn't able to go anymore.
I hadn't bought anything for my trip so I still had the option of not going at all—but with encouragement from my boyfriend and friends, they convinced me and I went!
Using Italy's fantastic rail network, I did the following route solo: Berlin, Germany – Prague, Czech Republic – Czesky Krumlov, Czech Republic – Vienna, Austria – Bratislava, Slovakia – Budapest, Hungary – Venice, Italy – Florence, Italy – Assisi, Italy.
Overall it was a great experience, and it gave me an independence I've never had before!
I was able to do anything I wanted to do, see anything I wanted to see, and spend as much or as little time at an attraction.
The negative side was it gets very lonely.  I'm an extrovert and I started to miss hanging out with familiar people.  Yes, I was meeting people but it's constantly reintroducing yourself and making small talk…  It's nice to have someone you're comfortable be with you traveling and sharing the experience!
Whenever I'm feeling depressed or I can't do something on my own I think to myself, "Hey! You are the badass who went on a solo Europe trip!  You can do it!"
Since that trip, I haven't been on a trip by myself, but I wouldn't mind possibly doing a short one in the US.  Three weeks a little too much for an extrovert like me, but I'm proud of myself for doing it.
If I had to give someone advice, it would be: Do it! … But be smart about it!  Pay attention to your surroundings and don't trust everyone so easily.  There are good people in the world and bad people.
Try to always stay in crowded areas and don't wander in deserted alleys.  And keep a close eye on your belongings!"
Finding Buddies in Bruge
" I took my first solo trip in 2009 when I visited Bruge and Brussels by train. I had finally gotten the courage up to quit my great job in journalism and move from Sydney in Australia, over to London in late-2008.
I was 24-years-old and got there at the start of the recession, when people were getting laid off in droves and no one was hiring. To top it off it was the middle of winter and I was getting a bit sick of the 4pm sunsets and bitter cold.
It was time for a mini-break and a cheap one at that, so I packed a backpack and got on the EuroStar for a train journey across the English Channel to Belgium. I absolutely loved every second of my week in Belgium, and I think a huge part of that was because I was travelling solo. 
After a day wandering around Belgium, packing in as many sites as I could (the architecture is amazing), I caught a connecting train to Bruges. It's a chocolate box town and I stayed in this quaint little room at the top of a B&B, under the eaves. I got to explore the town's churches, museums, markets, the belfry and take a boat tour.
I made friends in the afternoons when I'd sample local beers while watching the sun set. I had a great time hiring bikes and cycling to nearby towns and feeling like I was in The Sound of Music.
I've been on so many solo trips since that first one and loved almost every one of them. You get to do what you want, when you want, change your plans at the drop of a hat and meet new people. I was a little shy about going to restaurants on my own on this trip, but really got into the swing of it afterwards.
As long as you're friendly, people will warm to you and if you tire of your own company, just join a walking tour!"
Maid of Honor Wanderlust
" My first solo trip was by choice. I had just turned 22, and was flying to New Brunswick to be the maid of honour at my cousin's August wedding.
As I was already making the trip to Eastern Canada, I figured that I might as well make an adventure out of it. This led me to taking my first-ever solo trip to the neighbouring province of Nova Scotia, where I explored Halifax, Peggy's Cove, Lunenburg and Cape Breton. It was an absolutely amazing trip. 
This trip definitely confirmed my love of solo travel. My advice would be, if you're planning to do your own solo trip, plan ahead—but be sure to leave some room from spontaneity. You never know,  you might make new friends and want to stay even longer!"
– Deni, 22
Santorini, Solo, and So Happy
" I took my first solo trip when I was 28 years old, mostly because I finally realized I couldn't keep waiting around for a travel partner. I had broken up with a great guy who wasn't a good fit, and it occurred to me, if a decent boyfriend wasn't even interested in traveling with me, I'd just have to go on my own.
So I planned a trip to Greece, and it was wonderful! I booked everything in advance, and even paid extra for transfers so I wouldn't have to worry about figuring out how to get from A to B. I watched the sunset every night in Santorini. I explored ruins in Athens and Delphi. I ate more Greek salads than I can count. And I am so glad I went.
That trip lit a spark in me and reminded me how much I love seeing new places. I've been traveling ever since, on my own, with friends, and now with my husband.
Even now that I'm married, I still travel solo a couple times a year because there are some destinations he's not interested in, and solo travel gives me a great confidence boost.
My biggest piece of advice for new solo travelers is to research your destination and book hotels and transportation between cities in advance.
For me, having those things set ahead of time meant fewer things to worry about, and it really made the whole trip easier to deal with. It also helps to plan your first solo trip to a destination you're REALLY excited about to keep you motivated to go through with it!"
– Ali, 36
---
When did you take your first solo trip? Was it a home-run, or did you want to run home?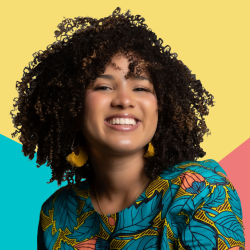 Latest posts by Gabby Beckford
(see all)